Learn how to play Duane Allman and Derek Trucks style slide guitar in Open E Tuning by learning muting, raking, scales, licks, chords and much more. Open up a new world of guitar playing by learning slide. Running time is 7 hours.
$99.99
Description
This is a Download only and no DVDs will be shipped. DVDs are no longer available.
In this course, I want to show you exactly how to overcome these obstacles that stand in your way of playing great slide guitar in the style of Duane Allman and Derek Trucks. These lessons will teach you exactly how to start playing this style by using the system I have developed throughout the years with students just like you.
If you practice and apply these lessons I can guarantee you will see results when learning how to play slide guitar.Learning slide guitar can be quite a daunting task. There are so many new concepts to learn that have nothing to do with playing standard guitar.
When I first started learning how to play slide there was not that much information on how to play in open e tuning. I mean, there were some books, but nothing that showed you the really good stuff. This is why I developed my first course and started this entire website. I quickly realized that there was not much clear instruction about how to play slide in this tuning, and specifically if you are wanting to learn the Duane Allman, Derek Trucks style slide guitar.
All the foundation concepts that I have learned over the past 15 years about playing slide in open e tuning are contained in these lessons. The techniques you will learn are ones that I have spent countless hours practicing and mastering by trial and error.
Let's get you started on the right path to playing some cool Allman Bros style slide guitar. Ready to Start?
Video Previews
This Course Includes
7 Hours of Video (.mov)
45 Pages of PDF Tabs
Fretboard Maps
Guitar Pro Files
Fretboard Maps
You'll receive Fretboard Maps to help with your Visualization of the scales and patterns in Open E Tuning. Each Interval is color coded to provide you with the optimal visual cue to find each note on the fretboard rapidly.
As Seen on Gibson
In 2008 Gibson featured many of my slide guitar lessons on their site and even recommended my slide guitar course as one that will get you playing in the style of Duane Allman.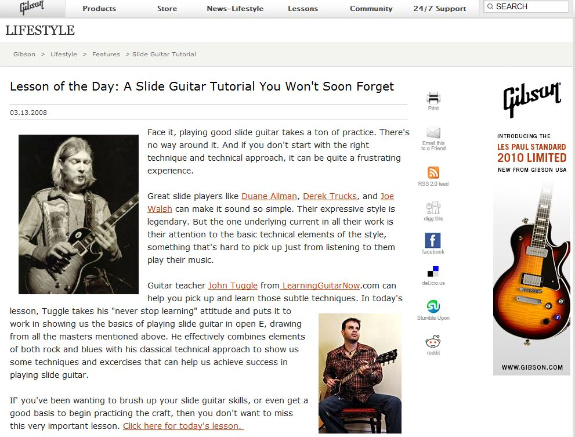 Gain access to this course and all the courses on the site with an All Access Pass