Take Your Blues Skills To The Next Level
Learn how to play blues and slide guitar by learning the techniques and concepts I've developed over the last 26 years from teaching guitar in person and online.
Over 200 Hours of Step by Step Blues and Slide Lessons
Learn what I've taught to thousands of students over the last 26 years from teaching the blues online and in private lessons.
Master the art of improvising, mixing major and minor scales, vibrato, bending, muting, raking, rhythm playing, slide guitar, and more.
What's Included in All Access
After joining you'll gain immediate access to all of the following learning tools to help make you a better blues player.
All Courses
Unlimited access to ALL of the Courses that cover improvising, vibrato, bending, raking, mixing major and minor scales, artist styles such as Clapton, King, Allman, slide guitar, rhythm playing and more.
LEARN 141 SOLOS
All the solos you will learn in the All Access Pass have Soundslice Tab that can be printed and a Downloadable Backing Track mp3. 
Features for Learning
Having these interactive features available make the lessons much easier to learn.
Soundslice Tabs
Interactive Video and Tab so you can Loop, Slow Down, and more with the Soundslice Technology.
Vidami Support
All of the lesson videos and Soundslices support the Vidami looping foot controller.
Member Reviews
Read what real members of the All Access Pass had to say about the lessons and courses.

THIS IS THE PLACE TO LEARN THE BLUES
THIS IS THE PLACE TO LEARN THE BLUES I've been trying to play blues guitar for 30 years on and off and never was able to play it right. It looked like something totally out of my reach, although I spent thousands in lessons. After trying a lot of different things in the internet I checked some free LGN lessons and decided to give it a try.I didn't even dream what I was going to find and achieve there. In less than 1 year I have improved so much, that some people think I have even gone to the crossroad at night! For the first time in my life I practice everyday and every time I have some free time, and I cannot wait for my daily practice. All solos and licks are amazing from the beginner to the advance levels. Although I joined as a picker, I have also now started slide guitar. Something I never thought I was going to do in my life. This is not a site to only learn songs, this is the PLACE to learn actually how to PLAY THE BLUES. How to play in the style of the masters (SRV, Clapton, Duane Allman, Billy Gibbons, BB King, Hendrix, etc, etc) and embed it into your playing. How to get the tones, use the gear and even how to record yourself and build a great home recording studio. How to master the nuances and techniques of masters' playing, that nobody teaches you anywhere. And how to improvise… John W. Tuggle is a world class player and a natural teacher, who evidently loves music, the blues and puts all the passion into his work.I'll keep subscribing to the All Access Pass until my hands are not able to play a note anymore! This site has really made me a happier person.
Jorge

Learning Guitar Now ticks all the boxes when it comes to improving your guitar playing
Learning Guitar Now ticks all the boxes when it comes to improving your guitar playing. John Tuggle is a great player to learn from and has worked incredibly hard in building a top class guitar learning environment. I've been a member of a few other learning sites but slowly lost interest in them.
I've learned so much since being a member and I'll be sticking with John. If you are a beginner, intermediate or advanced and like blues, Clapton, Hendrix, ZZ Top and the Allman Brothers why would you go anywhere else. His lessons are easy to follow with great functionality in the software.
There's always new content arriving and so much existing content to keep you busy. Thanks for what you do John. I'm definitely a better guitar player for being a member. Totally recommended.
John Hampton

John makes it Crystal Clear
I'm in my second year of All Access with Learning Guitar Now. I had no knowledge really of guitar before these classes. They have been super enlightening about the whole concept of playing guitar and music in general.
John goes over every note of every piece of music painstakingly and makes it crystal clear as to what you're supposed to be doing. While explaining the whole time where you are and how it works as music… His knowledge and enthusiasm are always inspirational. It takes lots of practice and repetition but it really works. I've looked at lots of other instruction on the Internet and this is by far the best. John Tuggle does a great job!
David
Frequently Asked Questions
Answers to the most common questions you may have about the All Access Pass.
I've never played guitar before is the All Access Pass right for me?
Probably not. While there is some beginner material on the site, the bulk of the content is made for guitarists who have been playing for a year or two. If you know the first position pentatonic scale and can strum a few chords then you should be fine.
I'm an Intermediate player. Will your lessons work for me?
​This site has been created for the Beginner/Intermediate player so you will find a wealth of information to make your blues playing sound much more polished and improvisational.
Does the All Access Pass work on mobile phones, the iPad and iPhones?
Yes. The All Access Pass works on all devices including iPad, iPhone, Android, Kindle, Mac, PC.
Can I get a refund if I don't like the All Access Pass?
Yes. If for whatever reason you're not 100% satisfied in any way we have a 30 day money back guarantee. I want you to succeed, and know that if you become a member of the All Access Pass and really put your heart and soul into it… you will see results! John W Tuggle *Note – The 30 day refund period only applies to your first subscription and can't be used more than once. To receive a refund you must send an email to info@learningguitarnow.com request a refund.
Can I print the tabs to each lesson in the All Access Pass?
Yes. All tabs that are contained in the All Access Pass can be printed.
How fast of an internet connection do I need for the All Access Pass?
I recommend having an internet connection of at least 10 Mbps to use all of the video features and have the site run smoothly.
Can I upgrade to an Annual Membership later?
You sure can! You can upgrade to annual membership any time with a couple of clicks from your account page. On your next billing cycle your subscription will be charged at the yearly rate.
Why should I join today instead of waiting?
It's time for you to take action. Simple as that. If you really want to get better at playing the blues then it is very beneficial to get answers from someone who has been there, played blues onstage for decades, and has spent years teaching students how to improve their guitar playing.
Put simply, learning certain guitar techniques does take some time so the sooner you start, the better.
Can't I just find lessons on YouTube?
You actually can. The only problem is that if you don't know what you need to learn, then it's hard to know what to search for. Also everything that is taught on YouTube is not necessarily the best way to go about learning things. I have taught students for over 2 decades so I can guarantee that the lessons I teach have worked with students offline and online.

Do you want to spend your time searching or practicing things that you know will get your better? I guarantee you will find some very useful lessons that will take your playing to the next level if you practice.
Can I download the videos that are in the All Access Pass?
No. The videos in the All Access Pass are streaming only and can't be downloaded.
It's so easy to lose focus when trying to learn guitar. The All Access Pass is here to keep you on-track and is available 24/7 on any device.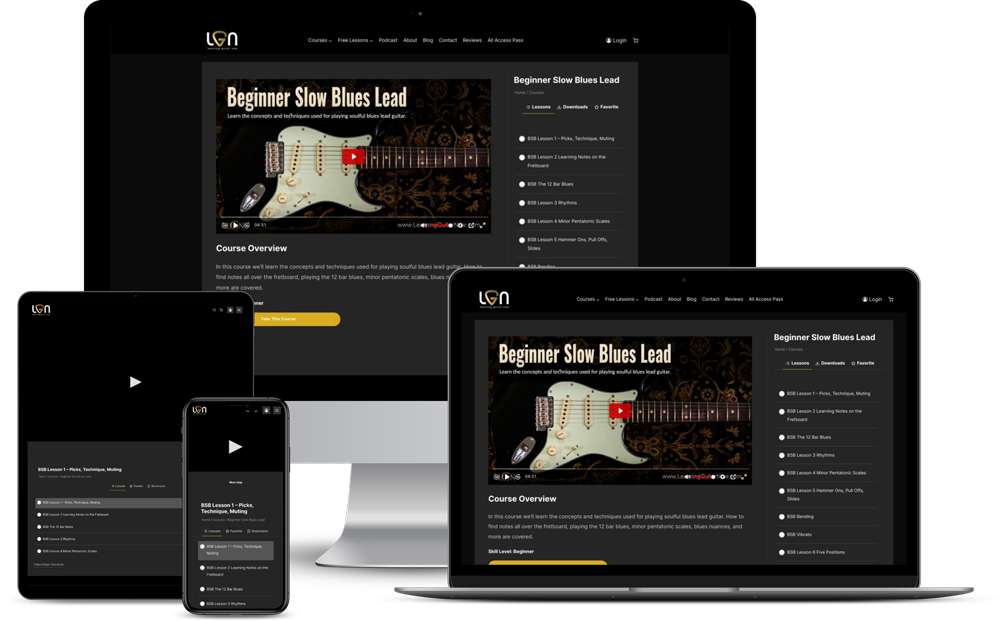 Learn what I've taught to thousands of students over the last 26 years from teaching the blues online and in private lessons.
Master the art of improvising, mixing major and minor scales, vibrato, bending, muting, raking, rhythm playing, slide guitar, and more.