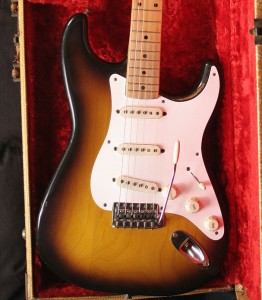 Am I crazy!  A little but who isn't?
There comes a time when you've learned so many new concepts, scales, techniques, etc…, that you have to take a step back and stop thinking about the technical side of music while you're playing.
It's true that you must learn about the technical aspects of playing blues guitar, but at some point you must spend some time just playing without thinking about scales or anything.
SCALES ARE NOT MUSIC
I'll say it again.
SCALES ARE NOT MUSIC
Just in case you didn't hear me.
SCALES ARE NOT MUSIC
Ok I think you get the point.
You can get so bogged down in learning the technical side, that you forget what the blues is all about in the first place.  I'm guilty of this as well.
Do you think Duane Allman was thinking about what scales to play when he performed Statesboro Blues or the Solo in Stormy Monday?  I highly doubt it, and you can tell because his playing is very non-scalular.  Is that a word?
Derek Trucks in an interview stated that when he practices now, he just sits around and tries to come up with cool licks and riffs.
If you have a practice regimen in place and regularly practice your scales, you must spend some time just playing without thinking.  Finding the balance between them is the key I believe.
Nothing to Say
After I had been playing for a few years, my playing suffered from too many scale like passages.  I practiced scales for about an hour a day for a couple of years and in the process I gained a lot of technique with not much to say.  I then really got into blues playing and found it very hard to get the same emotion out of my guitar that Buddy Guy got on his Damn Right I've Got the Blues Album.  I wore that one out I tell ya'.
Now there's nothing wrong with practicing your scales and I highly recommend it, but you have to spend some time playing what you feel, instead of what you think.
As they say in baseball, "You Play Like You Practice"  is applicable to guitar as well.  If you practice scales and technical aspects all of the time and don't balance it out with playing what you feel, then when you perform you will sound like a technician not a musician.
This is what I think separates a lot of the players today.  There's so many people who are technically amazing, but honestly they don't do anything for me.  There are however some who are technically amazing and play with tremendous feel.
A few examples:
Joe Bonamassa
Matt Schofield
Eric Gales
Just to name a few.
Next time you sit down to practice, spend at least 15 minutes just playing without thinking about it.  You might be surprised at what happens.
Thanks for reading.
– John W. Tuggle
To completely blow your mind and get you out of scale playing, try playing slide guitar.
Breaking Out of The Pentatonic Box Free Course
I'll send you my completely Free, Blues Guitar Mini Course and regular subscriber-exclusive content.
45 Minute Video Guitar Course
8 MP3 Backing Track Downloads
7 Practice Tips Video
Get the Free Course