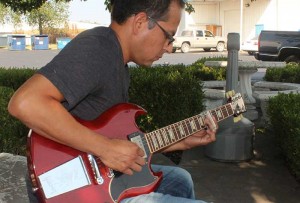 The following is a testimony written by Jesse Canarte about what it took for him, a married man with kids to be successful at learning to play slide guitar.
Jesse's Story
It's no secret it takes self-discipline to learn a subject. I would say slide guitar is no different, but it takes patience to a new level.. Progress with slide is a snail's pace, especially compared to our visual and daydream expectations of being on stage playing exactly like our guitar heroes.
Unfortunately there's no magic pill or microwave instant mojo – only micromanaging your practice, determination, and a good learning tool. This brings me to how Johns videos helped me.
Since day one of my guitar life I loved the blues and after watching Crossroads (Steve Vai/Ry Cooder), I wanted to capture that quality of notes, not necessarily the quantity of notes like a shred rock guitarist. I loved playing Elmore James and never really listened to Duane. I heard Derek Trucks back in 1996 and I knew that his playing was out of my league but was intrigued and craved to know how to play like him or at least capture his expression in a modest form.
An Unplayed SG
So my wife tried to inspire me with a 61 reissue in 2001. However, I couldn't achieve what I wanted to hear. So the SG sat for 4 years unplayed until Johns DVDs came out and saved the SG! Of course before that I played standard tuning on my Strat, but after the DVDs, I knew dedication was the only way to play slide in the style of DT. So I sold the strat and have played open E on my Trucks signature model SG ever since.
Learning slide on my own I would use YouTube videos of Derek as a tool, but it was hard to grasp each note. I found each note has an emotional value and there's no skimping if you want it to sound right. I found adapting John's lessons and advice to my practice was essential. I would have been far behind if it hadn't been for his backing tracks to help me find my timing and train my ear to follow the flow like dancing.
With time constraints of being a family man, I had to figure out my time and practice management. I found after the family went to sleep I could stay up and practice at least two times a week and on Saturday mornings before everyone woke up. Using headphones for the Computer and using an amp modeler for my guitar let me practice without waking anyone.
Four Years Later
After four years I have reached a point where I can finally figure out Derek Trucks solos by ear. It took focus and work and although I still have a lot of theory to learn, I feel satisfied in my tone, touch, and approach.
Confidence is either a killer or uplifting and motivational. So I suggest taking it slow. Be proud of your accomplishments, and don't worry about what you haven't accomplished yet. With practice anyone can learn slide guitar.
Practice promotes confidence, which gets results. My advice is to have patience and to break down each 3-4 note lick to make it articulate the emotion you are trying to express.
– Jesse Canarte
Watch a Video Of Jesse
Thanks Jesse for those inspiring words! I'm sure many people are in your same position as a married man with kids and often wonder if it's possible to learn slide at this stage of life. You've definitely demonstrated that it is if you really want to.
If you would like to learn about Open E Tuning slide check out the course Jesse and thousands of others have used to successfully start playing open e tuning slide in the style of Duane Allman and Derek Trucks. Click Here to Start Learning Open E Tuning Slide
Breaking Out of The Pentatonic Box Free Course
I'll send you my completely Free, Blues Guitar Mini Course and regular subscriber-exclusive content.
45 Minute Video Guitar Course
8 MP3 Backing Track Downloads
7 Practice Tips Video
Get the Free Course