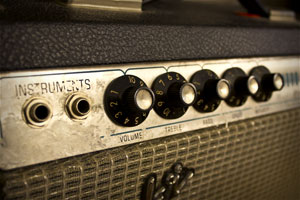 A lot of people seem to think that when you start learning slide guitar in another tuning, the first thing you need to do is learn where the minor pentatonic box patterns are located in this new tuning.
If you're learning slide in standard tuning, many people will simple use the same pentatonic boxes to play slide licks.
While using these box patterns will give you a few ideas, you need to re-think these patterns to have any real long term success when playing slide guitar in standard tuning.
Bad Idea
Well, I'm here to tell you that using box patterns is probably one of the worst things you can do when you start learning slide guitar. Simply put, these box patterns are not what you use to successfully learn and play slide guitar.
Think about it. When playing slide guitar, you move the slide up and down the fretboard, not across. All those fast patterns you learn when playing standard blues guitar are useless when playing slide. You must starting thinking differently!
Playing more melodically, with less notes, will take you a long way when playing slide.
YOU DON'T HAVE TO PLAY FAST TO SOUND GOOD.
Just because you hear Derek Trucks playing all these really difficult licks, doesn't mean that you have to start out trying to play like that. Melody and space will take you very far when playing slide.
If you only take one thing away from this post, remember that slide guitar playing moves up and down the fretboard, not vertically across the fretboard like many people play standard blues guitar. If you keep this in mind, you will be more likely to become successful when learning how to play slide.
For more information on learning how to play slide guitar check out my Slide Guitar Courses.
Breaking Out of The Pentatonic Box Free Course
I'll send you my completely Free, Blues Guitar Mini Course and regular subscriber-exclusive content.
45 Minute Video Guitar Course
8 MP3 Backing Track Downloads
7 Practice Tips Video
Get the Free Course