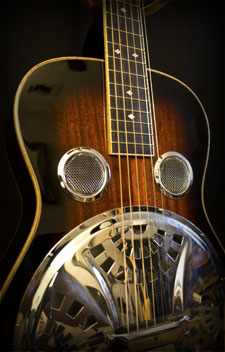 Last week, I decided to get back into squareneck Dobro playing. I used to have one about 5 years ago and learned to play to an ok level. Not anything amazing, but just to be able to play some cool stuff.
Unfortunately, I had to sell it to get money to invest in this website. Fast forward a few years, and I have the chance to start learning again, an instrument that can be very difficult to play.
Jerry Douglas even says it's an instrument that can immediately drive people away, second only to the violin. Meaning, this thing can sound bad to the ear if you don't play it properly.
Well, I like challenges, so I decided I would pick one up and play it at Eddie's Attic with my girlfriend at their Monday night open mic in about a week. It's a little nerve racking but, hey, it's supposed to be fun, and I'll learn a lot by going out and performing in front of people with the Dobro.
So as I go about practicing this very new instrument, I'm reminded of what it is like to be in the shoes of someone who really wants to learn how to play guitar. I'm analyzing myself as I go through the same process many of you have with my lessons. Let's just start at what it's been like for me in the beginning. I believe many of you will be able to relate to my experience, and that alone will help your mindset to know that pretty much everyone goes through the same process when learning how to play guitar.
The first thing I did when I got it was immediately start playing some things I already knew. I quickly realized that this was a little bit different when playing squareneck dobro. I didn't sound quite as polished, as my girlfriend put it! That was ok. I could learn, and I could find some lessons. I had questions like, how should I be holding the tone bar, how should I be sitting, what should my left hand and right hand be doing to properly play this different style of playing slide?
I had so many questions that needed answers. As many of you probably do, I turned to YouTube and found a few helpful things. As I felt these videos helped, I went and purchased a few lessons. Specifically these lessons were from TrueFire Dobro Handbook, and Lessons with Troy. These are some great lessons and I've already picked up some teaching tips that I want to include in my lessons in the future.
So now I had some lessons and was going about putting them into practice, which, by the way, I've got to do today. I noticed that I immediately learned some really cool things, and my playing really started to get better. This was exciting!
As this process of learning was unfolding, I started noticing a few things that were making the biggest difference in how much I did improve, and can improve over time.
These 4 Practice Tips will get you wherever you want to go with your playing:
1. Patience – You must have this quality or you will get nowhere fast. Most people, including me, want to take the lessons, practice a few times, and then BAM! You're playing amazing in a couple of days. Unfortunately, things don't work that way. Gradually over time you will get better, and being patient about your progress will help keep you in the right state of mind to continue to learn new things.
2. Persistence – This is a hard one as well. When learning something new, you must fight through that period that WILL COME when the "new" wears off of that amp or guitar and it becomes just another piece of equipment that needs to be practiced on. You know what I mean. Sometimes buying new gear is very fun and rewarding as you open the box and use the item for the first time. It's like being a kid at Christmas. Sadly, when the "new" wears off, we realize that the guitar won't make us any better, and daily practice will be needed to see what the guitar can really do. This happens to me as well.
3. Repetition – If there's one thing that will get you there faster, it's repetition. I've been trying to learn some cool licks, and I tell you, I've probably played some of these licks a hundred times! I see that this can be very difficult and frustrating, but keep repeating the lick over and over till you can play that lick without even thinking about it. When you get on stage to play it, I will guarantee you that the first few times you try to perform it, a sense of nervousness will come over you, and if your natural instinct doesn't take over, you won't be able to execute it. If you have to practice the lick 1,000 times, then do it. You won't regret it.
4. Recording – I know I say this over and over, but it's the truth. This is what happened yesterday. I have been practicing a good bit for about a week and feel pretty good about the stuff I have learned. I figure, let's try to record to a track. Things that I thought I had down, now obviously needed A LOT of practice. I couldn't believe it. Just playing by myself, I thought that I sounded pretty good.
However, when I hit that record button and listened back, I felt like quitting, like many of you may feel at times. I then realized that listening to this bad playing was a good thing. Why? Because now I knew exactly what I needed to practice! Bingo!!! If you don't know what you need to practice, how are you ever going to get better?
If you're not recording yourself, you will find that the time it will take you to learn will increase significantly because you won't know exactly what you need to practice. START RECORDING NOW! IT WILL SAVE YOU TIME! If you need to record yourself, you can always just put your phone down and use it to record your playing.
Well, that's how my experience has been so far. I hope you can benefit by knowing that all types of players go through the same process when learning how to play guitar.
Breaking Out of The Pentatonic Box Free Course
I'll send you my completely Free, Blues Guitar Mini Course and regular subscriber-exclusive content.
45 Minute Video Guitar Course
8 MP3 Backing Track Downloads
7 Practice Tips Video
Get the Free Course