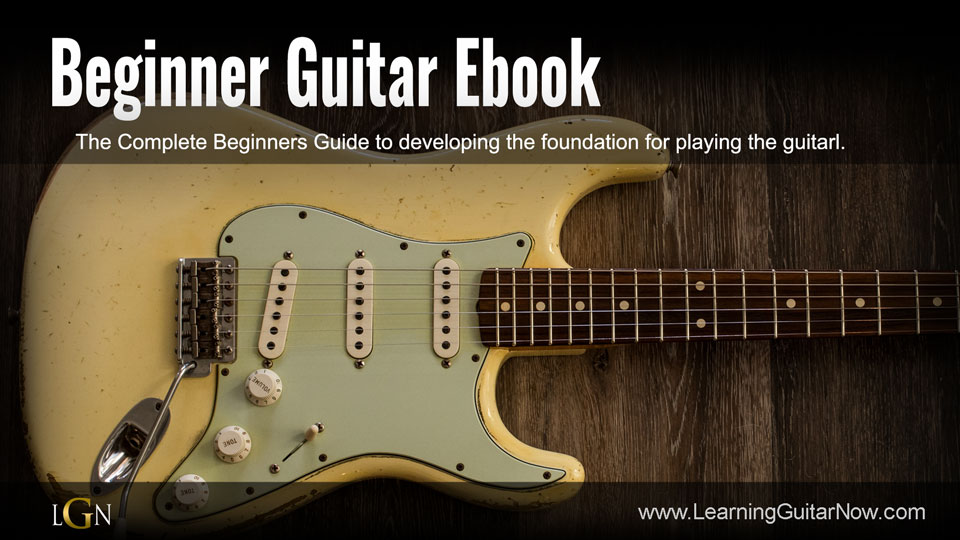 Ebook for Beginners
The complete beginner guide to getting started with the Guitar. After teaching private lessons to thousands of beginners, this is what I have found Will work if YOU practice. 80 pages of instruction.
Gain immediate access to this Course and all the Courses on the site with an All Access Pass.
Preview the first 16 pages here.
Have you been trying to learn the guitar, or maybe you've tried in the past and failed? If you're one of the thousands of people who try to learn the guitar each year, don't give up before you try my ebook.
Learning how to play the guitar is a wonderful skill, and can be achieved by doing one simple thing. Practice! Yeah, that's right. I just gave you the million dollar secret.
What everyone does not tell you is that anybody CAN play guitar, but it will not happen overnight. It will take some diligent practice every day. If you know this going in, then it will be much easier for your expectations to be met. You just can't start playing like Jimi Hendrix in a few weeks.
Please don't fall for this promise that so many websites tell you.
You can put in a little practice each day, and over time you will develop the skills it takes to play any kind of music. This is a much more realistic goal, and you will see better results by using this mindset.
Details
80 page eBook
20 minute beginner video guitar lesson on strumming the guitar
Downloadable mp3s of all audio examples
9 backing tracks to play along with that include drums and bass
PDF of all music in the video and backing tracks
You May Also Like These Courses

On videos where he turns it loose, you see and hear someone that gets it
I've been playing in bands since 1974 when I was 17. They've been more or less successful over time, earning enough scratch to keep me interested. Blues has always been at the top of my list, and I got by on basic rhythm techniques and the occasional lead. "Good enough" to get by, but I was never satisfied.
I've tried dozens of instructors, all sorts of how-to books/DVDs/online programs…nothing seemed to click. When you hear a good blues guitar player, the distinction between good enough and great is huge. I've found a few online, but too many talk talk talk and play little. When I discovered Learning Guitar Now, I realized it was different on this site. First, John can PLAY. On videos where he turns it loose, you see and hear someone that gets it. But what makes his site different than the rest just regurgitating variations of the same theme is that he wants YOU to get it.
If you want to pick and choose your lessons…fine. If you want to start from scratch and build competency in technique…fine. If you want to talk to him on the forum and have a REAL exchange of ideas or ask for advice…he's there. The lesson curriculum is huge, his freebies on YouTube vast, and his continued enthusiasm to help you become a better blues guitarist is non-wavering.
You're not on his site to learn theory or the fretboard, although he does touch on these when necessary. You are there to play guitar. Play what you love in the style of your favorite artists or just improvising. Play, learn the phrases, the timing, the technique and you WILL get better. I'm 64 as I write this. Still playing. The difference now is I'm getting better. Good enough doesn't cut it for me now.
When I hit a phrase just right, the audience actually pauses on that beat. The beauty of the blues just poured through my fingertips if only for a moment. Right now I'm focused on some of the Allman Brothers material. It takes me home. Sometimes, when I daydream, I see me on that stage with them, holding my own. Thanks JohnT, you've kept the blues alive for this old timer!
John White

I am pleased to say that I can now play a reasonable lead solo
I'm a pretty good acoustic guitar player who has always wanted to play electric blues lead. I have used quite a few other online tutoring sites some more successful than others but still didn't manage to get it. Until, that is, I found Learning Guitar Now. With John's tutoring style and a great website full of great courses I am pleased to say that I can now play a reasonable lead solo and I'm improving all the time. I love the way John plays guitar. It's exactly how I'd like to play but he is very clear that you need to practice to get there. John is a very straight talker to lays out what you need to do to play blues lead and that is practice. He is also very encouraging by saying that you can do it but don't kid yourself that buying the course will make you a great player if you don't follow John's useful and straight forward advice. So thank you John for everything. I get so much enjoyment from playing and see myself improving each month.
Dik McFarlane

He covers all the great blues and rock guitarists
LGN is an incredible resource for anyone wanting to get better at playing the blues. Working through John's lessons will get you better at improvising, help with techniques like bending, slides, raking, and vibrato. He covers all the great blues and rock guitarists and some that you may not have studied previously. I highly recommend the All Access Pass to anyone who loves playing guitar!
Matt

John uses the latest tools available
I'm very happy being an All Access Pass member here at LGN. John is an excellent teacher and amazing guitar player. He not only shows you "what" to play but also focuses on "how" to play each note with emotion and feeling. That makes all the difference. Also the site interface is so easy and John uses the latest tools available to make the experience as rewarding as possible! I say "Go for it!" …you'll be glad you did.
Philly Dupree