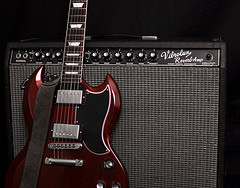 If you missed the first installment, you can find that one here.
So continuing on. About 2001, I decided to start playing slide again. I had quit playing for a couple of years to focus on playing regular guitar. I really wanted to be like SRV, Clapton, and Hendrix, so this is what I focused on. I did play some occasional slide here and there, but not much.
It all started to re-surface when I sat in with a blues rock band. They already had a great guitarist, so I thought I would play some slide to mix it up. I started playing some Warren type licks and everybody started saying, "Keep doing that. It sounds great".
After this night I thought to myself, "Maybe it's time to dive deeper into this slide thing."
Rebirth
So that was it. I was determined to start learning slide completely. I immediately turned to Duane Allman again who had been nearly impossible to learn 10 years ago. And yep, it was still very hard. I was still playing slide in standard tuning at this point and was not willing to use open tunings because I only had one guitar and didn't want to re-tune after every song when playing live. I also remember pulling out some Derek Trucks albums my drummer had told me about and trying to learn them.
It was very difficult, and I felt like quitting. Using standard tuning, I just couldn't find the notes he was hitting. I was spending a lot of time trying to figure this out, but I wasn't getting anywhere. And this raking noise I kept hearing Derek making was very difficult to figure out.
Then I said, "You know, lets just try this open e tuning and see what happens." So I tuned my Strat to Open E to see what it was like and BOOM! I knew then that this was the key to unlocking Duane Allman and Derek Trucks awesome slide guitar style. The excitement I felt pushed me to start practicing hours everyday for about 3 years to learn this style. It was exciting again!
Practice Makes Perfect
From this point forward, I grabbed every Derek Trucks album and Live album of him with the Allman Brothers and his band. I also started learning every Duane Allman Slide solo he ever recorded that I could find. Keep in mind I didn't own a computer or have access to internet at all. This was about 2001 or so. There was no YouTube and video didn't exist yet on the internet. I mainly turned to live albums and CD's. A few in particular that I wore out was Derek Trucks Live At the Georgia Theatre, Allman Brothers Live in Atlanta (2000) this was a bootleg, and Allmans at Fillmore East of Course.
I immediately started sitting in with bands and using open e tuning. It was very scary at first because I was trying to play all this new stuff and it was hard. I felt very frustrated because for one, I had to learn how to retune between every song to be able to play in this tuning. I only had one guitar and I had no money. There was no way another guitar was coming anytime soon.
So that's what I did for about 3 years. Gigging and practicing open e tuning with the Strat. Around 2004 or so, I was finally able to save enough money for a Gibson SG. I had been dreaming of this guitar for years, and it looked like I was finally going to be able to get one.
Gibson SG
I was teaching guitar lessons at Musicians Warehouse in Athens Ga at the time, and they were a Gibson Dealer back then. The owner said I could get a discount on one if I ordered directly from them. So that is what I did. When that guitar arrived at the store, it was an amazing day to finally have a guitar I could just keep in Open E Tuning. Now at all my gigs I could have a second guitar for this tuning which made it so much easier.
I continued to practice and spent a lot of time transcribing Derek Trucks and Duane Allman Solos. This was very difficult and time consuming but I felt my ear becoming very quick to figure out this material.
At the time I was working at a gas station and during the slow periods I would practice my exercises, licks, muting and raking all day long. Then I would go out and play gigs using the material I was practicing about 2-3 times per week. Doing this really helped me to develop a slide guitar style over time. It also helped me to become confident in the material I was playing. Navigating around different keys in many styles of music can become very difficult in your brain. Repetition is the key. After I had been doing this for a few years it started to become second nature.
DVDs
In 2007 I decided to put what I had learned about Open E Tuning into a DVD, called Slide Guitar Method 1: Open E Tuning. I was working a part time CD packing job during this time along with playing gigs and teaching 40 student's a week. It was a very busy time to say the least. To make this a reality, I quit my part-time job to focus on recording this DVD. I spent all my money on what is now Learning Guitar Now to start the website to promote it.
It was definitely a big gamble, because by quitting my part-time job, I lost half my income which was going to make it very difficult to pay all my bills if this DVD didn't pan out. Fortunately, I was able to sell a few DVDs and keep this dream alive. Thank the Lord! This was the first DVD I had ever made, and I felt like this information could save people years of time that I had spent learning this stuff. I can tell you that it is very frustrating listening to Derek Trucks and Duane Allman and try to get somewhere near to what they are doing.
By making all these lessons, I have learned even more about what it takes, and the exact moves I have learned to make playing slide guitar possible. Hopefully I've conveyed this information in the lessons I have made. To anyone who has purchased my lessons, thank you so much for taking a chance on my lessons to help get you where you want to go with slide guitar. Without you, none of this would have been possible.
Well that's how my slide guitar story unfolded. If you're interested in learning what I spent years deciphering, you can check out my Open E Tuning Slide Course.
Breaking Out of The Pentatonic Box Free Course
I'll send you my completely Free, Blues Guitar Mini Course and regular subscriber-exclusive content.
45 Minute Video Guitar Course
8 MP3 Backing Track Downloads
7 Practice Tips Video
Get the Free Course