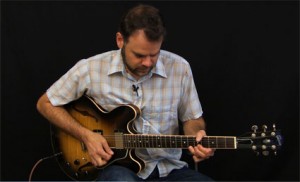 Recently, someone emailed me and asked what were in my lessons that he couldn't learn on his own.  I thought for a little while and thought.
Nothing really.
Is this true?  I thought about it for a good while and still came to this conclusion.
Yes.  Anyone can learn everything I teach by using the Internet and trial by error.
BUT….
and this is a big one.
The problem comes when the student doesn't really know what they should be learning.
It's hard to search for something when you don't even know you should be searching for.
You might eventually figure it out, but it will take a great deal longer to find this info.  Then when you do, how do you know what you should do next?
The process will start over again of you trying to figure out what to do.  You will waste a great deal of time trying to learn like this, and if you're not in your teens, you don't have this kind of time and will probably end up quitting.
When I Started…
When I first started playing guitar, I immediately took 6 months of private lessons.  I then took a break for a year but eventually found another really good teacher and learned a lot about blues playing.  I also subscribed to guitar magazines, and bought numerous instructional DVDs.
I knew that I didn't know what to learn and there were people out there who did.
The only area I couldn't find hardly any instructional material on was Open E Tuning Slide Guitar.  Back in 2003, I was amazed that there was literally nothing out there for Open E other than a few books that taught the basics and some tab books.
NOTHING was even remotely close to learning Derek Trucks style playing.
I proceeded to put in a lot of work to figure out some aspects of his style and about 7 years later that's one of the the main reasons I put together LearningGuitarNow.
Regardless if you want to play slide or not, if you're having trouble and you don't know where to turn, STOP spending endless hours trying to find the video that's going to change your playing.
Frustration
Now listen, I'm not saying free video lessons are not helpful.  I'm saying that if you're at a point of frustration and spend hours trying to find what you need to learn but you don't even know what that is, then you need some form of lessons.
Whether it's my lessons, another person's, or a private teacher, I would recommend investing in some tutorials.  You'll be much happier and you're playing will get better a lot faster.
– John W. Tuggle
Breaking Out of The Pentatonic Box Free Course
I'll send you my completely Free, Blues Guitar Mini Course and regular subscriber-exclusive content.
45 Minute Video Guitar Course
8 MP3 Backing Track Downloads
7 Practice Tips Video
Get the Free Course