I recently decided to go back to using amps for my lessons as they are much easier for me to use and most importantly, I can be a little louder than I previously thought I could in my new recording space.
To control the volume and still get a great tone, I decided to go with a 16 watt amp as my others were 35 watts and above. It just so happens that Jeff Andrews the creator of my Spectraverb 40 came out with a 16 watt model of this great amp.
This new model called the Spectraverb 16 is very similar to the 40 watt with just a few differences.
Spectraverb 16 Specifications
Size – (H) 16″ x (W) 19-7/8″ x (D) 9-1/2″
Weight – 34 lbs
Power – 16 watts
Tubes – Two 12AX7, two 12AT7, two 6V6, one GZ34
Upgraded USA transformers
Improved circuit design for tighter, less "farty" bass response
New exclusive reverb limiter control
Hand-wiring on very heavy duty epoxy glass turret boards
4/8/16 ohm speaker output jacks
1 12″ Speaker WGS 12 C/S Recording the Amp
Audio Interface – Digi 002r with BLA Mod
Preamp – API A2D
Microphone – AEA R84
No Eq or Compression were used on the sound files except for a Master Limiter on the Main Bus to raise the overall volume when exported at 24 bit 48khz.
No pedals were used.
Mic Positioning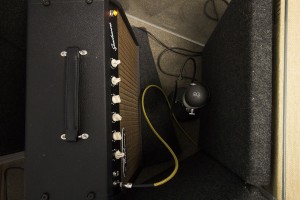 You can learn more about this amp at Andrews Amplification.