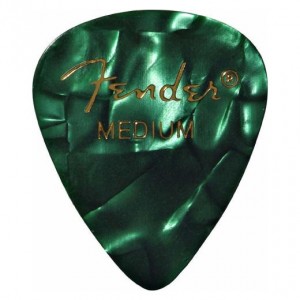 This is a question I find many people often asking.  This really does have a big impact on the tone that you get.
One crucial thing to keep in mind is that you need to hold the pick lightly when strumming.
If you don't, you will most likely hear a very stiff, awkward sound.  To get a smoother sound you need to hold the pick lightly, and let the pick give in to the string as you strum.
Pick Size
Thin picks will give you a thinner sound and produce a nice strum effect and sound great on acoustic guitars. I don't really like them so much for electrics though.
Medium gauge picks to me sound better for electric, but they can also work well when using them on acoustic guitars. 
Thick picks work when you really want to dig in on an electric guitar, especially for power chords and soloing.  Using thick picks on acoustic guitars will give you a big duller sound, which may sound good depending on what you're going for.
Here's my suggestion to you
Go to your local music store, and buy one of each kind of pick.   Now play each kind of pick on acoustic, and then electric using different styles of music.
This will help you to determine what you like best for each kind of guitar or style.  This is crucial! 
YOU need to find out what YOU like.  Music is a great thing.
Why? Because it allows individuality and there are no steadfast rules, just basic guidelines.
This means that you can use a thin pick on electric for power chords, and it won't be wrong because I said to use thick picks earlier in this article.  I'm telling you to use thick picks for power chords because I have tried them, and prefer them for power chords. Experimentation is the key.
Now that you've read my opinion, here's the picks that I like to use.
Dunlop Jazz III 
Fender Medium
When learning the guitar, don't be afraid to try something new.  I find that out of failure often comes greatness.
Breaking Out of The Pentatonic Box Free Course
I'll send you my completely Free, Blues Guitar Mini Course and regular subscriber-exclusive content.
45 Minute Video Guitar Course
8 MP3 Backing Track Downloads
7 Practice Tips Video
Get the Free Course