Power chords are a simple way to learn all the chords on the guitar. What, all the chords? Well not exactly all the chords, but A-G# chords can be learned by just using power chords.
Here's the shape to learn.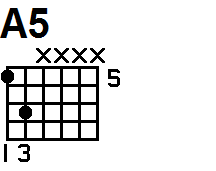 Now that you've learned the shape.  Simply move the chord up and down the strings to change the chord.  Your 1st finger determines the note name of the chord.  So whatever note name your first finger is on, that is the name of the chord. 
For example, if you put your 1st finger on the 5th fret of the E string, and your 3rd finger on the 7th fret of the A string, as shown above, you will be playing the A power chord.  Simple!
To me, learning the guitar is about movable patterns that can be moved around to change keys, or ideas.
Breaking Out of The Pentatonic Box Free Course
I'll send you my completely Free, Blues Guitar Mini Course and regular subscriber-exclusive content.
45 Minute Video Guitar Course
8 MP3 Backing Track Downloads
7 Practice Tips Video
Get the Free Course