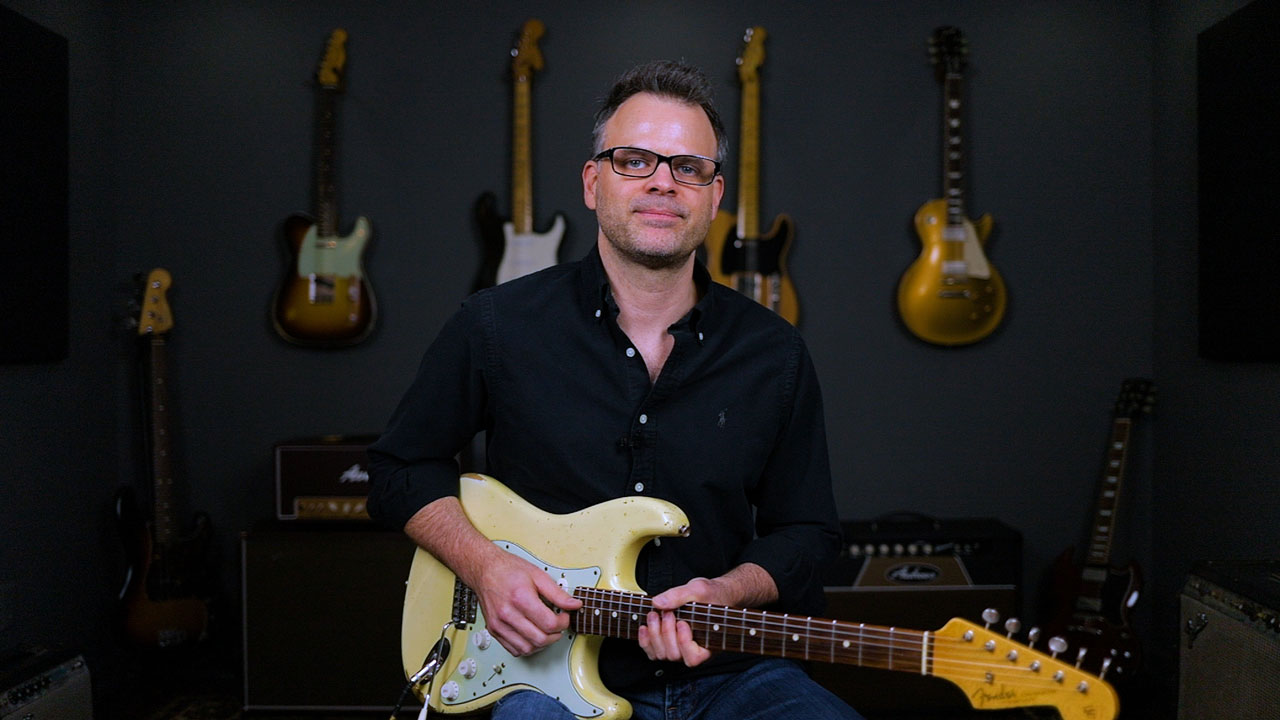 Here's how I got into playing guitar and building this website. – John W Tuggle
In the spring of 1991 at the age of 17, I had saved up $200 from working at a grocery store and purchased a Kay Electric Guitar and Peavey Rage amp. This was the start of my musical journey. I immediately started taking private guitar lessons from Mark Habib at M&S Music in Mobile Al and continued to do so for about 6 months.
During this time I spent countless hours in my room trying to get those Hendrix, and Zeppelin tunes to sound right. It was hard.
At the University of South Alabama, I continued my musical education by studying music theory, jazz guitar, and classical guitar. I was soon asked by my classical guitar instructor ( Owen Middleton ) to join the classical guitar ensemble to perform with. That was pretty exciting!
Wanted to learn more about the Blues, I started taking private lessons from a guy in Mobile named Michael Ferrington.  This guy was a really great blues guitarist and teacher who steered me towards the Allman Brothers Fillmore East album.  I remember him saying, "If you really want to get good, go pick up Live at the Fillmore and learn as much as you can from it."  I picked it up the next day at Peaches Music and things have not been the same since!
After a few years of eagerly practicing, I began to pick up gigs with a variety of different bands and continued to keep learning as much as I could.  I also attended the Monday night blues jam at the Garage in Mobile Al almost every Monday.  Here I really learned about being quick on your feet when playing with amazing players.  I truly learned so much by doing that.
Over the course of my musical career, I have been involved with so many different music projects including two original bands playing songs that I wrote and arranged. One of these was the blues-rock band "Last Day Down" where I co-wrote all of the tunes with Ferrill Gibbs and the other was named "Soul Kitchen", an Allman Brothers and Santana inspired jam band. Soul Kitchen consisted of drums, bass, guitar, keys, and sax. It was a really fun band that also happened to win a Battle of the Bands at Tasty World in Athens Ga.
I also played with Neal Pattman, Georgia blues legend, for a short while where I learned how to follow a bluesman who didn't think about traditional time signatures and forms. I then joined up with Clarence Cameron, a highly regarded blues singer in Athens Ga, The Healers, Don't Know Blues Band, (AJ Adams from Vigilantes of Love, Jason Fuller formerly of Ween, Carlton Owens formerly with John Mayer), and Betsy Franck among many other bands I have played with throughout the years in the town of Athens Ga.
In 2007 I began playing exclusively with The Highballs a wedding and event band where I learned so much about different styles of music and what involves putting on a truly professional show.
Teaching
After playing the guitar for about 4 years, my friend and bassist Nathan Shiver asked me if I wanted to start teaching guitar at a music store where he was also teaching. I said yes and immediately quit my job working at Sears and started teaching about 30 students a week at Jubilee Music in Fairhope, Alabama. It was pretty overwhelming, to say the least, but this is where I learned about teaching people about playing the guitar.
There is definitely a learning curve to showing someone how to learn the guitar efficiently and properly while maintaining the student's interest. Looking at concepts and techniques through someone else's perspective is a skill I tried to develop early on and still try to find better ways of teaching guitar to students.
Later on, I taught at Musicians Warehouse in Athens Ga for about 6 years where I kept around 40-50 students per week. This was quite a schedule where I learned so much about how students learn how to play guitar.
I also put on 4 recitals with my private lesson students over the years. These guitar recitals gave the student the opportunity to take their skills learned in my private guitar lessons onto the stage –  a true test of their abilities.
With the advent of the internet, I can now offer my guitar lessons to anyone in the world, which is pretty amazing to me!
In 2007, I released Guitar Method Beginner Book 1. It was definitely a huge learning experience which took me about 2 years to complete. Guitar Method Beginner Book 1 was the first entry into my catalog of instructional material. At this time in March, I have produced over 40 DVDs worth of instructional material and have many more lessons in the works.
How Learning Guitar Now Started
If you want to know more about how Learning Guitar Now came to be, you can read the story here.