Two months ago on Sunday September 11th 2022, I noticed that my left arm and hand started swelling up and turning blue seemingly out of nowhere. I thought it was a pulled muscle or something from all the guitar I had been playing that week as I was spending lots of hours trying to write a new lesson.
So I went to the ER that night and after they did an ultrasound, they told me that I had a Blood Clot in my left arm and they were going to do all they could to keep something fatal from happening. I had to stay in the ER for several hours while they did more tests and put me on an IV of Blood Thinners to keep it from moving to my lungs. I don't think I've prayed that much at once in my lifetime.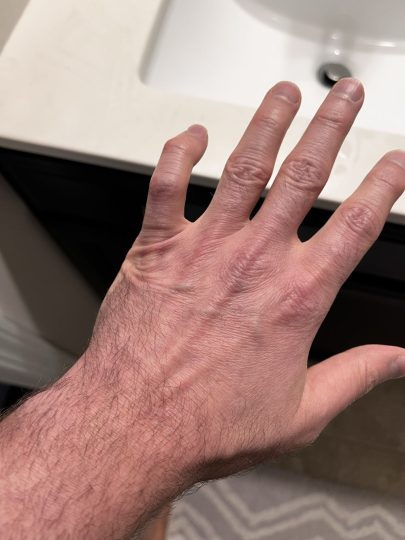 It seemed to come out of nowhere as I just had a full check up and everything came back great. My cholesterol which has been high in the past even came down to 156. So this event was a real eye opener.
Fortunately the CT scan was clear so no clots were in my lungs and they said I was able to go home.
When I arrived back home at around 7am I started on 5 days of Blood Thinner injections and then moved to capsule Blood Thinners which I'll be on for 6 months.
I guess God is not done with me yet on this earth. It was an extremely scary event and the doctors said I was lucky that I came in when I did.
The past two months have been pretty difficult as I've been trying to make sense of this whole thing and also figure out how am I going to move forward with everything. Sleeping has been difficult and my arm has been hurting a pretty good bit so it's been a challenge.
In the last few weeks though things have gotten much better.
I started doing sessions with Jerald Harscher about Body Mapping to learn how to move more while I'm playing and understand more about how my body is supposed to move. It's based on the Alexander Technique which many Classical musicians study and will help me learn how to get in a better position when playing guitar and sitting at a computer. So far it's been extremely helpful and I feel like after this is all over I'll be playing guitar better than ever.
One of the main reasons I contacted Jerald is that he has treated a drummer who had pretty much the exact situation I have. He had a DVT out of nowhere in his arm. This was many years ago but Jerald told me he made a full recovery and has been fine for years now.
After doing a lot of internet research myself after this event occurred I came across a high profile YouTuber iJustine who had a very similar experience except she waited longer to go to the ER and ended up having the clot go to her lungs. https://www.youtube.com/watch?v=hzE0eLu6bsw
Since the Doctors said this was a provoked DVT I will need to get more movement throughout the day as well and not sit so much. I decided to get one of those Apple Watches to remind me to get up and move every hour but also it tracks your standing minutes per hour which is great. I'm trying to get at least 5-10 standing minutes per hour and it's been really helpful for me feeling better.
Anyways, hope to make some videos relatively soon. I've worked up a different set for the videos moving forward that I think works well so I don't have to be in a cramped position for the camera and when I'm writing music at the computer.
Thank God I am still here as if I would have waited to go to the ER say till the next day I'm not sure what would have happened. The 15 Year Anniversary of the site is early next year and looking forward to the new era for my lessons.
Thanks to all of you who have watched any of the videos. Back in 2007 I decided to make this website my career and thanks to all of you it has worked out. Looking forward to the next 15 years!
John
[ Update Sunday 11- 6 – 2022 ]
A few other things to point out. I have no family history of clots or disease that we know of. I have an ultrasound and a full blood work test scheduled in January to see if the clot is gone and also to see if I still have any blood issues that could cause possible clots in the future. Right now all the swelling is gone and my arm seems to be back to normal. Just gets a little tired as I haven't been using it a lot.
Will keep you updated. Thanks so much for all the positive comments and prayers! It really means a lot.
[ Update 2 – 6 – 2023 ]
The Ultrasound was done and the clot is still there but has gotten much smaller. Previously 4 of the veins in my arm were being affected but now only 2. Seems to be moving in the right direction but may take a few more months. I will get the full Doctor Report on February 10th.
[ Update 5 – 7 – 2023 ]
I am now off Blood Thinners and all my Blood Tests came back great so seems everything is almost back to normal. I do experience a bit of pain and tightness occasionally so just have to keep moving during the day and doing range of motion exercises. It's great to be able to play again without discomfort after about 8 months. It seems all the body mapping and Alexander Technique lessons have really helped!