Getting a good guitar tone is one of the most talked about subjects in the guitar realm on the internet in my opinion.
Everyday you can find people discussing amps, guitars, strings, cables and many other components of what will give you the ultimate guitar tone. Just go to the Gear Page, or Harmony Central if you don't know this yet. If you haven't visited these sites then the amount of information on these sites will make your brain spin!
Now I'm going to tell you my story of how I learned about getting a great guitar tone.
Band Auditions
Back in 1994 I had been playing guitar for a couple of years and wanted to play in a real gigging bar band. I had been playing with my high school buddies in a band, and we did some house shows, but now I wanted to be the lead guitarist in a hot cover band that played lots of gigs.
So I went to all the local music stores and found the ads for bands that were needing lead guitarists. If you have ever done this, then you know how strange it can be to call someone out of the blue and try to convince them that you are a real guitarist. You meet some very interesting people doing these kind of things I will assure you.
So anyway, I found one ad that appealed to me and decided to give it a go. I was about 19 years old at the time and had never played in any bar bands, just house shows with my friends. This was unchartered territory for sure.
I called the number on the ad and spoke with the drummer about the music I was into and I little about myself. I told him I liked rock and blues music and had only been playing for about 3 years. He seemed to like what I had to say, so we arranged an audition with the band.
The day arrives and I'm really excited about the chance to play in a real band that plays gigs and will make some money too! I drive over to the house and begin to unload my equipment and bring it out to the practice shed behind the house where everything is set up.
Back then, I had a very weird dressing style going on. I remember I had just shaved my head, not bald but very short. I also remember wearing a pair of green jeans and a red flannel shirt with black shoes. It was the grunge era you know! I probably looked a little weird to them because they were definitely in their 30's or it seemed that way to me.
When I walked in the room, everyone seemed to give me a slight look like, "Who is this guy?" I proceeded to set up my equipment and get ready to show them that I could actually play and that this would be a great opportunity for the both of us.
My setup at the time was this:
Marshall Valvestate 50 watt amp
ADA MP-1 tube rack preamp
Fender Mexican Strat with a Hot Rails pickup in the bridge
In my mind, this gear was some killer equipment that gave me a great tone! After I got setup we played through a few songs. I can't remember what they were, but I think we did play a Black Crowes tune, and Tightrope by SRV.
Bad Tone
After we finished a few songs the drummer looked at me and said, "Why does your guitar sound like Sh**? I mean you have so much distortion and I can't hardly hear the notes your playing! Why don't you unplug that digital thing you got hooked up. I think it's killing your sound."
So I unplugged the ADA MP-1, which I thought was the piece of gear that really made my guitar sound good. I had saved up a long time to purchase that piece and now it was just worthless? I unplugged it and we played another song. The tone was even worse, and I couldn't hear anything I was playing, neither could the band.
After we finished the drummer looked at me and said something like this, "It seems like your guitar playing is pretty good, but your sound is total sh**." He then looked at the rhythm guitarist/singer and said, "Play something for him through your rig." Now this guy I will never forget. He kinda reminded me of Robert Plant. He had long curly blonde hair, very thin, a cool looking Fender amp, and a nice Les Paul. When the drummer told him that, he began to play just a few short leads to show me what a guitar is supposed to sound like.
I admit it sounded way better than my setup. My sound was thin, distorted and small, while his was warm, smooth, and large. He played beatiful sounding notes and swung his blonde hair all around like he was in Led Zeppelin. The drummer then said, "Now that's it. That's tone my friend!"
Harsh Reality
At that point I knew I was not ready for this yet. Yes, I had played a few house shows and practiced a lot in my bedroom, but I really didn't know much about guitar playing and doing gigs. I was just learning.
The band proceeded to leave, but the drummer told my to stay for a little bit longer to talk. He sat down, popped open a beer, and said something like this, "Man, you're a pretty good guitarist, but your sound is bad." He then said the words I will never forget. "Get rid of all that digital, valvestate, whatever you call it. It's not tube! I mean get a real fender amp that has lots of tubes in it. You're never going to sound good until you drop that garbage of gear your playing. Also, you play too many notes, and you don't have any dynamics. Dynamics is the key to playing music. I don't care if it's SRV or Nirvana. They both use dynamics to make their songs sound good. Take Nirvana for example. Smells Like Teen Spirit starts off really heavy and then after a while Kurt plays 2 notes and holds them. That's it! Do that sometimes. It will help you."
I left that audition feeling embarrassed, and worthless. I felt like I had spent so much time practicing and learning about guitar, but for what? Apparently I had a long way to go and I was't even close to getting theier yet. At that point in my life I had decided that I wanted to do music for a living, and I wasn't going to ever give up. In those moments I felt as though I would never even be good enough to play in a cover band. It was very depressing and for a couple of days, I felt like giving up guitar for good.
My First Fender
A couple of days later I decided that maybe that drummer was on to something. Maybe I should just get a Fender amp with tubes, and at least my tone will be good, I hoped. That day I walked into MMI music in Mobile, Al to see if there were any Fender amps I could afford. I walked in and asked the guy working there about the Fender amps they had for sale. He said, "This is your lucky day! The owner just got some old Fender Twins in and they sound really great. They don't have overdrive though, so you will need an overdrive pedal. I recommend the Ibanez tubescreamer and a Rat. You will be able to get some great sounds with this gear."
The Twin was a 1974, and the whole deal was about $500. That was almost all the money I had from working at Sears, but I figured this is what I must do to move forward with this music thing. So I bought the Twin, 2 pedals and started down the path of becoming a lifelong Fender amp player
I still have the Twin today and will never sell it. I think back about that drummer, and I now realize that he did the best thing that ever could of happened to me. If he wouldn't of said anything to me about my sound, who knows how long it would have took for me to realize that my tone wasn't very good. To this day, I play strictly Fender's. I've tried Marshalls but they just don't have the sound that I truly like. I'm not saying they are bad amps, this is just my personal preference. To me, there's nothing quite like plugging into an all tube Fender amp and just enjoying the smooth, glassy sound that can only be attained by a Fender.
Here's the Fender Twin I got a couple days after that incident.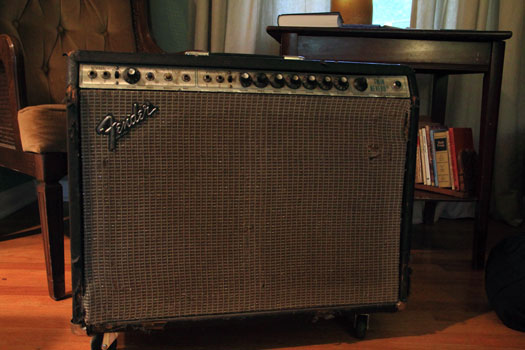 Breaking Out of The Pentatonic Box Free Course
I'll send you my completely Free, Blues Guitar Mini Course and regular subscriber-exclusive content.
45 Minute Video Guitar Course
8 MP3 Backing Track Downloads
7 Practice Tips Video
Get the Free Course