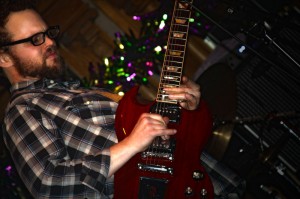 My name is Ryan Harris, and I play slide guitar in open E tuning. I front two bands in the Raleigh NC area — JetHorse, which has a jammy, Allmansy kind of sound, and The Ryan Harris Band, which has a funky, classic soul and groove jazz type of sound.
I started playing slide about 4 years ago when, as a lifelong bass player, I developed arthritis in my left index finger. I'd always had issues with my hands, (tendonitis, carpal tunnel, you name it), but this was different. I had to quit bass.
After being a musician for almost 30 years, I wasn't about to give it up, but I also wasn't sure how to keep going. Then one day I happened upon an old brass slide I had bought back when I was a teenager. Slide was the answer!
I'd been a fan of the Allman Brothers Band when I was a kid, and I'd heard "Live at Fillmore East" hundreds of time, but my listening had moved on to other things. Now with taking on slide guitar, I was back to listening to the Allmans, and it felt great, like coming home.
Learning slide on my own wasn't easy. I had been playing in standard tuning for about a year and had become frustrated with my progress. Playing bass had been second nature to me, but switching to slide guitar was entirely new. My playing didn't sound any good. I could hear Duane, but I couldn't replicate Duane.
Then I started following John's videos on YouTube and decided to commit myself to learning slide in Open E tuning. I bought John's Open E Slide Course and it was hands down the best money I'd ever spent on music lessons.
After the first 3 months with John's lessons I was really hearing a difference. John's DVDs really opened the door, and I'm grateful to him for developing the slide course. Now any time someone asks me where to go for guitar lessons, I point them to John.
Recently I had the good fortune to record and put out a 3-song EP of original music with some tremendous musician friends. The Ryan Harris Band EP "Get In, Get Out!" shows off a bit of my writing and slide playing, as well as my singing, which I started working on about two years ago. A full length Ryan Harris Band album is also in the works, as well as some shows to promote the EP.
Finding that old slide saved my life as a musician, truly. Thanks to John Tuggle and the rest of my bros at The Slide Connection, (our secret society of slide players), I've never been happier with music. Slide!
Purchase at Amazon, iTunes, CD Baby
Thanks for sharing Ryan! The EP sounds great and you have really come a long way with your playing coming from no slide playing at all. You are a living example that if you really want to do something, you simply need to set your mind that you will do it, and then get busy working toward your goal. It must feel really great 4 years later seeing a dream become a reality. Nice Work!
Breaking Out of The Pentatonic Box Free Course
I'll send you my completely Free, Blues Guitar Mini Course and regular subscriber-exclusive content.
45 Minute Video Guitar Course
8 MP3 Backing Track Downloads
7 Practice Tips Video
Get the Free Course