Does your playing lack a driving rhythm? Or maybe you suffer from always playing too fast or slow? When learning how to play songs, your first Guitar Lesson should be about Strum patterns . All songs use strum patterns for the rhythm playing. Sometimes they'll change during the song, and sometimes the pattern is quite hard to hear.
In my ebook Guitar Method Beginner Book 1, I show you 6 strum patterns that can be used to play thousands of songs. I specifically created this book for the beginner guitarist. By learning some simple techniques, anyone can start playing the guitar immediately! It just takes a little practice.
From these six patterns I've developed, a wide variety of songs can be played. Let's take a look at one of them. This strum pattern consists of playing 2 quarter notes, and four eighth notes. You will strum down, down, down up, down up. Count 1 2 3& 4&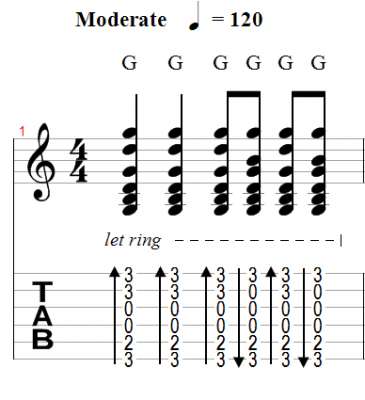 This Strum pattern can be used to play many songs such as "Times like These", "Brown Eyed Girl", and many others. Strum patterns will put a consistent rhythm in your playing that you may have been lacking. Practice these everyday with a metronome, and you'll be on your way to playing all your favorite songs. For more info on strum patterns please visit my website, Learning Guitar Now.
Breaking Out of The Pentatonic Box Free Course
I'll send you my completely Free, Blues Guitar Mini Course and regular subscriber-exclusive content.
45 Minute Video Guitar Course
8 MP3 Backing Track Downloads
7 Practice Tips Video
Get the Free Course