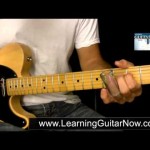 In this guitar lesson, I'm going to show you some tips about starting slide guitar in open g tuning. Now the first thing you're going to want to do is put some larger strings on your guitar. I use a set of .011's. This will make it significantly easier when playing slide if you do this.
The next thing you want to do is to raise the action on your guitar. This will allow you to cleanly play notes with the slide without it hitting the fretboard.
Now that you've done these 2 things, you will need to tune your guitar to Open G Tuning. The notes will be from low to high – D G D G B D. Notice that the 4th, 3rd, and 2nd strings ( the D, G, and B strings) are not changed from standard tuning. This is one key thing to realize when learning Open G Tuning. Many different triad chords can be formed just like playing in standard tuning. If you are playing any rhythm guitar, this will become extremely helpful.
Now you should have your guitar all tuned up now and ready to play some slide. I'll tell you right now that the Key of G works great in Open G Tuning, but you can actually play in any key with this tuning as well.
Watch the Video for Open G Tuning
This course is now available. You can check out this course on Open G Tuning here.
Breaking Out of The Pentatonic Box Free Course
I'll send you my completely Free, Blues Guitar Mini Course and regular subscriber-exclusive content.
45 Minute Video Guitar Course
8 MP3 Backing Track Downloads
7 Practice Tips Video
Get the Free Course