I've always wanted to have some kind of merch available for the site, and today I'm proud to say that the New Learning Guitar Now T Shirt Shop is officially open.
I bought the domain name learningguitarnow . com way back in June of 2006 and proceeded put up the first version of the site a few months after this time. So this is actually the 15 Year Anniversary of the website and I think it's a great way to commemorate this time with T Shirts that are Learning Guitar Now branded.
Currently we are only shipping to the US and Canada. Due to the amount of restrictions and complications with VAT we have decided not to ship internationally at this time.

Save 20% for a Limited Time
For a limited time you can save 20% on all T Shirts when you purchase two or more.
I spent a lot of time working on the designs and had some outside help as I'm terrible at designing T Shirts all by myself lol. That's one of the main reasons I never offered any. To me these T Shirts fit and look great with either jeans or shorts.
I also ordered and tested about 30 shirts to make sure they looked the right way, and then went about wearing them and washing them to make sure they would hold up. I can confidently say that I think these shirts are great and I'll be wearing them in many of the upcoming lessons.
You can read all about the sizing of the shirts at the link below. There is also a size chart available on each T Shirt page.
Here's me wearing one of the designs The Blues in a Tri Blend Vintage Black.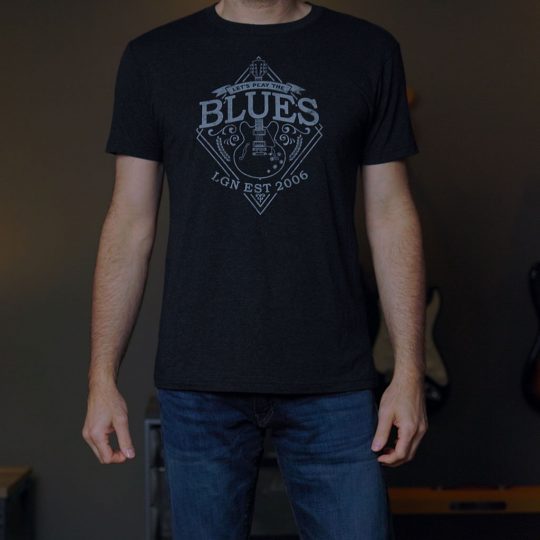 Thanks for the support throughout the years and looking forward to the next 15 years of lessons. :)
John
Breaking Out of The Pentatonic Box Free Course
I'll send you my completely Free, Blues Guitar Mini Course and regular subscriber-exclusive content.
45 Minute Video Guitar Course
8 MP3 Backing Track Downloads
7 Practice Tips Video
Get the Free Course