Lately I've been trying to get my Avatar 45 to sound much better than what it has been. Don't get me wrong, it's a great amp for sure, but there has just been something that irks me about the tone I have been getting with it. I thought that getting some different speakers for the 2 X 12 Avatar Cabinet could be the solution.
I have been using two Celestion speakers in the 2 X 12 Avatar cabinet. A G12H 30 and a G12M 25 Greenback. Now these speakers are supposed to be great, but I just don't really like them for what I am looking for. To me, the mids have a cardboard sound to them when cranked, and the top end is slightly harsh to my ears.
The Solution
Lately I've been reading about the Scumback speakers and have really wanted to try them out. I decided to order a Scumback J75 which is a combination of an H and G type Celestion speaker. Kinda the best of both worlds from what I have read.
The Scumback J75 I purchased is a 65 watt speaker, and I decided to put just one of them in the 2 X 12 cabinet to see how that sounded.
The amp is an Avatar JTM 45 watt, but I think the actual wattage is similar to a Marshall JTM 45 which is rated around 35 watts I believe. My point being is that one 65 watt speaker will be enough power running it by itself.
Avatar also wired the cabinet for various different combinations which was also great. The Avatar 45 also lets you select between 4, 8, and 16 ohm settings.
Putting just one Scumback 65 watt speaker in the cabinet has really opened up this amp and I am much happier with it. The only drawback to using one speaker I have found is that there is not as much headroom. I could always put another J75 or maybe M75 in the cabinet if I wanted to achieve more headroom.
I have to say though that I really like the sound of this one speaker, and of course putting 2 speakers in there would change the tone to some degree.
Differences
To me the Scumback is tighter sounding with much nicer highs. The harshness is gone and the mids are very nice and do not have that cardboard quality that the Celestions to seem to have. It seems to sound the best when the amp is turned all the way up. The Avatar also has a built in Attenuator which actually works really well. Any attenuation will suck some tone, but I often find that with minimal attenuation a very nice tone can be achieved.
Watch the Video Amp Settings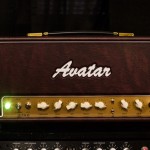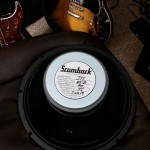 So that's my take on this Speaker change. I am completely happy with it and Jim at Scumback Speakers is very easy to deal with and has great customer service. If you're interested in his speakers, you can check them out here.
For the Avatar 45 check here.